Group Training
Physical Industrial Training - St. Marys, PA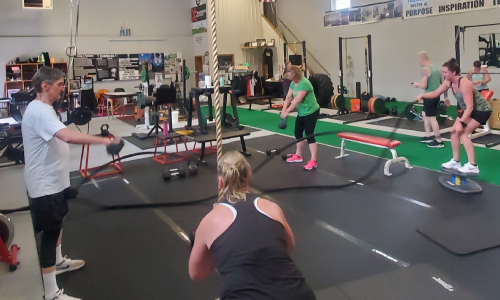 Price: $120 for unlimited group training (Attend Any and All Sessions)
Additional Groups can be added for 4 or more people.
Private Groups can also be set-up for 4 or more people. Call or stop by for more info.
Group training features exercise sessions that are 60 min in duration throughout the week. Each exercise session is created to target various points that relate to increasing your overall health, by engaging in the most up to date methods of physical exercise.
All exercises can be regressed or progressed to suite your ability, needs, and/or goals.
Any age and fitness levels are able to participate.
Plan to arrive 10 min early to be prepared to start warming up.
Register for free 30 minute consultation (in person or in phone)
Training routines change from day to day.
A P.I.T. Coach will always be on site to ensure safety and proper use/form with exercises and equipment.
Current Group Times are:
Monday
5:30-6:30 am
6:00-7:00 pm
Tuesday
5:30-6:30 am
6:30-7:30 am
7:30 -8:30 am
6:00-7:00 pm
Wednesday
5:30-6:30 am
Thursday
5:30-6:30 am
6:30-7:30 am
8:00-9:00 am
6:00-7:00 pm
Friday – OPEN GYM
Members – (Group, Personal, and Program Specific)- $5
Current Client – $5
General Public/Drop-Ins – $10
Open Gym Time – 5:30am – Noon
Saturday Shred
9:00-10:00 am
Come in any Friday and use the equipment here at the P.I.T. to execute your own training, the gym will be opened for a limited time on Friday's so get in and finish the week strong!
Coach Nick and/or Coach Tom will be on site to answer questions and help with fundamentals and technique.
Group Training
Name: Coach Nick
Phone: (814)594-0322
thepit.nl@gmail.com
Name: Coach Tom
Phone: (814)594-0093
physicalindustrytraining@gmail.com